Buster is a simple steamroller who goes about his job with pride and content.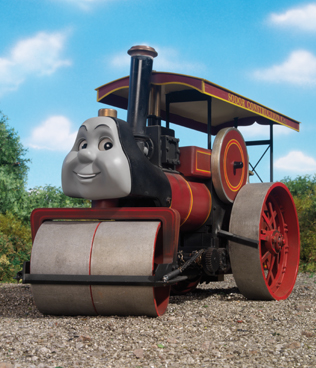 Buster likes to think of himself as the "world's fastest steamroller" and often dreams of winning races. This came true when he won a race against Max and Monty on the newly completed Sodor Rally Track. He later helped out when Miss Jenny found mole hills on the football field. Buster was also seen at the new school construction site.
Buster is a hard worker with heart and commitment in what he does and he is a good dreamer. He goes about his job with glee and pride knowing all is right with the world. What Buster lacks in imagination, he makes up for with heart, commitment, and hard work. He is liked by all the machines for his wonderful enthusiasm and kindness to help with everything.
Buster is based on an Aveling and Porter steamroller named Thistledown formerly owned by the Reverend Teddy Boston. George shares this basis.
Buster is painted brownish-red with yellow lining.
Appearances
Edit
Specials:
He had a role in the cancelled episode, The Importance of Being Patrick.
Buster also appeared in a ninth season music video.
Merchandise
Edit