Green Arrow is an LNER Class V2 steam engine preserved as one of the main attractions of the National Railway Museum. He is the cousin of Gordon, Flying Scotsman, Spencer, Mallard and Flying Thistle. He is currently on display at York, but was also on display at "Locomotion", the National Railway Museum at Shildon when his boiler certificate expired in 2008.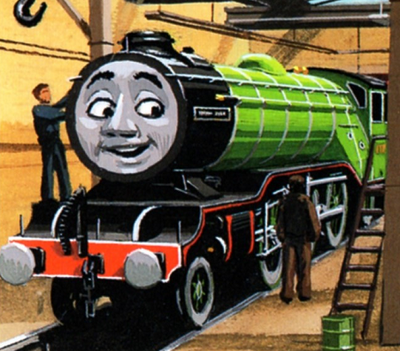 Green Arrow was built in June 1936 for the London and North Eastern Railway at Doncaster Works to a design of Sir Nigel Gresley.
Thomas met Green Arrow after his unusual arrival on the back of a lorry to find him being repaired in the workshop. Thomas would later help Green Arrow double head a railtour train and saved him from a serious accident when a rail from an embankment was undermined. Green Arrow then followed Thomas on the other track and they both brought the railtour train safely back to York.
Preservation
Edit
Green Arrow was withdrawn from service in August 1962 and bought by the National Railway Museum. He would pull rail tours from time to time, but in 2008, was withdrawn from rail tour service. This was because two of his superheated tubes were cracked. These tubes were fixed, but Green Arrow was soon taken away for static display. His boiler was not to expire until mid-late 2008, but it failed shortly after the tubes were repaired. Green Arrow is back in York to be restored to mainline condition. At present, Green Arrow is part of the Flying Scotsman story display inside the National Railway Museum.
Green Arrow is painted in the apple green livery of the LNER, lined out in white and black.
Appearances
Edit
Green Arrow is the only LNER Class V2 in preservation.