James is a vain, red, mixed-traffic engine in Thomas the Tank Engine and Friends.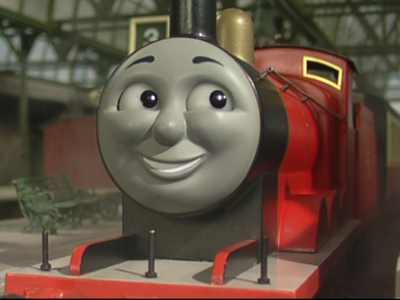 Allies: Thomas the Tank Engine, Edward the Blue Engine (father), Henry the Green Engine (uncle), Gordon the Big Engine (uncle), Percy the Small Engine (best friend), Toby the Tram Engine, Duck the Great Western Engine, Donald and Douglas the Scottish Twin Engines, Oliver the Great Western Engine, Emily the Beautiful Engine (girlfriend), Murdoch the Strong Engine (uncle), Arthur the LMS Tank Engine (brother), Spencer the Silver Engine (sometimes), Mavis the Quarry Diesel, BoCo the Metropolitan Vickers Diesel, Bill and Ben the Saddle Tank Engine Twins (good friends and pals), Fergus the Railway Traction Engine, Annie and Clarabel, Old Slow Coach, Stanley, Stepney (son), Bertie, Terence, Butch, Trevor the Traction Engine, Caroline, Harold, Skarloey, Rheneas, Sir Handel, Peter Sam, Rusty, Duncan, Duke, Freddie, Mighty Mac, Luke, Bertram, Ivo Hugh, Molly the Yellow Engine (mother), Rosie, Lady (beautiful magical friend), Belle (beautiful friend), Millie, Stephen, Bash, Dash, and Ferdinand the Logging Locos, Hiro (grandfather), Flynn, Connor, Caitlin, Stafford, Winston the Red Car, Victor, Kevin the Crane, Dennis, Charlie the Purple Engine, Billy, Salty, Porter, Harvey, Elizabeth (sometimes), Cranky (sometimes), Jack, Alfie, Oliver the Excavator, Kelly, Ned, Buster the Steam Roller, Nelson, Paxton, Neville, Captain, Owen, Merrick, Hank, Flora, Pip and Emma, Jinty and Pug, Green Arrow, Iron Duke, Wilbert the Forest Engine, City of Truro.
Enemies: Devious Diesel, 'Arry and Bert, Daisy, Diesel 10, Splatter and Dodge, Stanley (formerly), Spencer the Silver Engine (sometimes), Elizabeth (sometimes), Cranky (sometimes), Bulgy, George, Max and Monty, Den, Dart, Norman, Paxton (only in Day of the Diesels), Sidney, D261, The Horrid Lorries, S.C.Ruffey, Troublesome Trucks.
Likes: His red paint, being a Really Useful Engine, showing off to the other engines, going fast, pulling coaches (and wishes he could do that all the time), being rude to other engines (sometimes).
Dislikes: Causing confusion and delay, being dirty, being stuck in Tidmouth Sheds for being naughty, any livery other than his red one, his wooden brake blocks, pulling goods trains, diesel engines (formerly).