Lady is a beautiful girl and the mysterous magical steam engine in Thomas & Friends.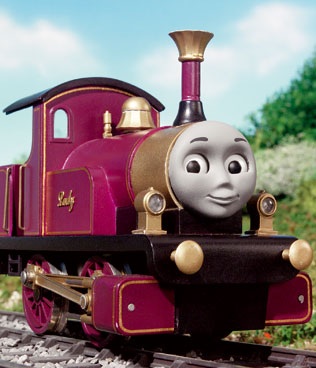 Lady was chased and wrecked by Diesel 10 long ago and was brought to safety by Burnett Stone. She was brought back to life with the help of Burnett's granddaughter Lily after being stored at Muffle Mountain for years, and helped Thomas defeat Diesel 10.
Later in Calling All Engines!, she and Rusty appeared in a dream to Thomas. Lady told Thomas how to resolve the problems Sodor was facing.
Home: Magic Railroad
Train Built: Steamie
Appearance: Dark purple engine with 4 wheels, golden smokebox, grey face, lamps and buffers
Personality: Mysterious, beautiful, magical, friendly, nice, kind, honest.
Goal: To help Mr Conductor get more magic. Escape being scrapped by Diesel 10 (succeeded).
Gender: Female.
Alignment: Good.
Allies: Thomas (boyfriend), Burnett Stone, Lily Stone, Patch, Mutt, Mr. Conductor, C. Junior, Tasha Stone (deceased).
Enemies: Diesel 10, Splatter, Dodge, P.T. Boomer
Likes: Thomas, Burnett, magic, being safe,
Dislikes: Danger, losing magic, Diesel 10, being threatened,
Powers and abilities: Fire, steam and speed.
Inspiration:
Edit
Princess Aurora (Sleeping Beauty)
Cinderella (The Same Movie)
Anastasia (The Same Movie)
Ariel (The Little Mermaid)
Relatives:
Edit
Duck (Boyfriend/Husband)
Duck Junior (Son)
Danny the Magical Engine (Son)
Lady's Prince (Husband (Finished))
Ad blocker interference detected!
Wikia is a free-to-use site that makes money from advertising. We have a modified experience for viewers using ad blockers

Wikia is not accessible if you've made further modifications. Remove the custom ad blocker rule(s) and the page will load as expected.