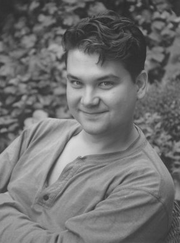 Martin T. Sherman (born in Evanston, Illinois, November 28th, 1966) is an American actor and voice actor who provided voices for the US narration of Thomas & Friends from 2009-2015.
He started acting around the age of 9 at a local Jewish community centre in Florida. He also provides voices for several video games. One of his more known roles is voicing Pac-Man in the video game "Pac-Man World 3".
Departure from the Series
Edit
In 2014, it was announced that he will leave his role on Thomas and Friends due to contractual disagreements with the Thomas and Friends production team. He announced his departure via The SiF Blog in July. In the post he claimed to be feeling exploited and complained about the low wage the series was paying him. He also apologised to any fans who might be affected by his departure.
Later that month, in an interview with The Guardian, he stated that HiT Entertainment had threatened him with legal action if the blog post was not removed. Sherman said he felt bullied and silenced and was reportedly seeking legal advice regarding the blogpost. The blogpost was later removed. In the same Guardian interview, HiT Entertainment refused to comment on the contracts it has with its talent and wished Martin Sherman the best in his future professional endeavours.
Joseph May took over the voice of Thomas starting with The Adventure Begins, Christopher Ragland took over the role of Percy and Kerry Shale took over the role of Diesel, respectively, in the nineteenth season.
Filmography
Edit
Ad blocker interference detected!
Wikia is a free-to-use site that makes money from advertising. We have a modified experience for viewers using ad blockers

Wikia is not accessible if you've made further modifications. Remove the custom ad blocker rule(s) and the page will load as expected.