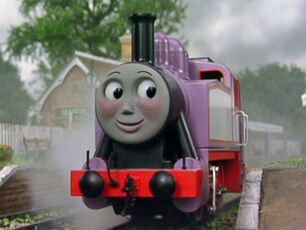 Rosie is a pink tank engine who has a crush on Thomas or Percy.
Relationship
Edit
Occupation: Shunter, mixed-traffic engine
Personality: Cheerful, funny, kind, nice, friendly, fun, happy, jolly, cute, honest,
Appearance: Pink tank engine with 6 wheels (just like Thomas), black smokebox, grey face with freckles on her cheeks, 3 domes on her boiler, red chassis, black buffers, red portholes, golden headlamp (in Tale Of the Brave onwards), and tail lamp
Alignment: Good.
Goal: To be a Really Useful Engine. To help Thomas (because she likes him so much).
Home: Island of Sodor.
Allies: Thomas the Tank Engine, Edward the Blue Engine, Henry the Green Engine, Gordon the Big Engine (father), James the Red Engine, Percy the Small Engine, Toby the Tram Engine, Duck the Great Western Engine, Donald and Douglas the Scottish Twin Engines, Oliver the Great Western Engine, Emily the Beautiful Engine, Annie and Clarabel, Murdoch the Strong Engine, Arthur the LMS Tank Engine, Mavis the Quarry Diesel, BoCo the Metropolitan Vickers Diesel, Bill and Ben the Saddle Tank Engine Twins, Fergus the Traction Engine, Old Slow Coach, Stanley, Stepney, Bertie, Terence, Butch, Trevor the Traction Engine, Caroline, Harold, Skarloey, Rheneas, Sir Handel, Peter Sam, Rusty, Duncan, Duke, Freddie, Mighty Mac, Luke, Bertram, Ivo Hugh, Molly the Yellow Engine, Belle, Millie, Stephen, Bash and Dash the Logging Locos, Ferdinand the Logging Loco, Hiro, Flynn, Connor, Caitlin, Stafford, Winston the Red Car, Victor, Kevin the Crane, Denis, Charlie the Purple Engine, Salty.
Enemies: Diesel, Arry & Bert, Diesel 10, Splatter, Dodge, Spencer (formerly), George, Hector (formerly), Daisy (arch-rival), Smudger, Big City Engine.
Likes: Thomas, working on the Fat Controller's Railway, being happy, having fun with Thomas, being a Really Useful Engine, helping Thomas or other engines.
Dislikes: Causing confusion and delay, not being a Really Useful Engine, not being helpful, danger, anyone mad at her.
Powers and abilities: Fire, steam, strength and speed.