Thomas Tennis is the sixteenth installment in Thomas's Dream Team for Nintendo 64, made by UbiSoftFan94.
Edit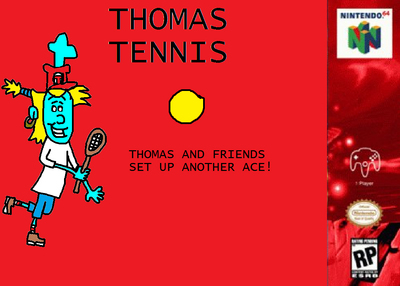 Thomas as Mario
Henry as Luigi
James as Wario
Diesel as Waluigi
Gordon as Donkey Kong
Skarloey as Baby Mario
Sir Handel as Donkey Kong Jr. (voice)
Bash as Alex (voice) (as Penn Badgely)
Madge as Birdo
Rosie as Nina
Mavis as Daisy
Lady as Kate
Dash as Harry (voice)
Emily as Princess Peach
Edward as Toad
Ad blocker interference detected!
Wikia is a free-to-use site that makes money from advertising. We have a modified experience for viewers using ad blockers

Wikia is not accessible if you've made further modifications. Remove the custom ad blocker rule(s) and the page will load as expected.