Thomas and Emily for Xbox 360 is the eighth installment of Thomas's Dream Team for Nintendo 64, made by UbiSoftFan94.
Edit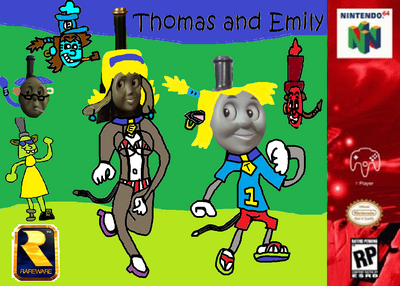 Thomas as Banjo (Both the main heroes)
Emily as Kazooie (Both the main females)
Percy as Mumbo Jumbo (Thomas and Percy are best friends, just like Banjo and Mumbo Jumbo are)
Daisy as Gruntilda (Both the main female villains)
Smudger as Klungo (Both green and evil)
Edward as Bottles (Thomas and Edward are good friends, just like Banjo and Bottles are)
Flora as Tooty
Casey Jr as King Jingalong
Johnny as Trophy Thomas
Silver Fish as Lord of Games (Both evil and mean)
Oliver as Mr. Fit (Both Western)
Boco as Pikelet
Tootle as Boggy
Annie & Clarabel as Mingella & Blobbelda (Annie and Clarabel are both twins, just like Mingella and Blobbelda are)
Mavis as Humba Wumba
Molly as Mrs. Bottles
Toad as Gobi
Skarloey as Speccy (Both smart)
Madge as Goggles
James as Conker
Donald/Douglas as Jamjars
Bill/Ben as Nipper
Hector as Conga
Arry as Chilli Billi
Bert as Chilly Willy
Bulgy as Boss Boom Box
44 Scenes:
Edit
Ad blocker interference detected!
Wikia is a free-to-use site that makes money from advertising. We have a modified experience for viewers using ad blockers

Wikia is not accessible if you've made further modifications. Remove the custom ad blocker rule(s) and the page will load as expected.