Thomas is a small blue tank engine. He has come to Sodor in May 1915 as a station pilot at Vicarstown until 1946, at which time he has been transferred to Wellsworth following an incident with some trucks. Later that year, after rescuing James from his crash, he has been given charge of the Knapford-Ffarquhar branch line and two coaches, who he names Annie and Clarabel. He is the main protagonist of the television series.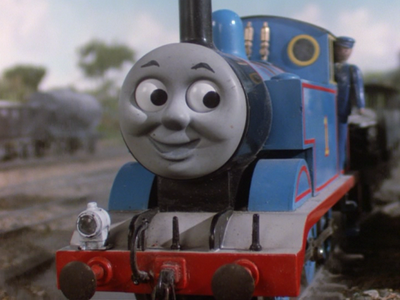 Relationship
Edit
Home: Island of Sodor
Train Built: Steamie
Appearance: Blue tank engine with 6 wheels, black smokebox, red chassis, black buffers, grey face, yellow portholes and white lamp
Personality: Cheeky, goofy, funny, kind, friendly, clever, smart, cute, wise, sometimes stubborn
Goal: To be a really useful engine
Numbers: 1
Gender: Male
Alignment: Good
Allies: Edward the Blue Engine (father), Henry the Green Engine (uncle), Gordon the Big Engine (uncle), James the Red Engine (cousin), Percy the Small Engine (best friend), Toby the Tram Engine, Duck the Great Western Engine, Donald and Douglas the Scottish Twin Engines, Oliver the Great Western Engine, Emily the Beautiful Engine (girlfriend), Murdoch the Strong Engine (uncle), Arthur the LMS Tank Engine (brother), Spencer the Silver Engine (sometimes), Mavis the Quarry Diesel, BoCo the Metropolitan Vickers Diesel, Bill and Ben the Saddle Tank Engine Twins (good friends and pals), Fergus the Railway Traction Engine, Annie and Clarabel, Old Slow Coach, Stanley, Stepney (son), Bertie, Terence, Butch, Trevor the Traction Engine, Caroline, Harold, Skarloey, Rheneas, Sir Handel, Peter Sam, Rusty, Duncan, Duke, Freddie, Mighty Mac, Luke, Bertram, Ivo Hugh, Molly the Yellow Engine (mother), Rosie, Lady (beautiful magical friend), Belle (beautiful friend), Millie, Stephen, Bash, Dash, and Ferdinand the Logging Locos, Hiro (grandfather), Flynn, Connor, Caitlin, Stafford, Winston the Red Car, Victor, Kevin the Crane, Dennis, Charlie the Purple Engine, Billy, Salty, Porter, Harvey, Elizabeth (sometimes), Cranky (sometimes), Jack, Alfie, Oliver the Excavator, Kelly, Ned, Buster the Steam Roller, Nelson, Paxton, Neville, Captain, Owen, Merrick, Hank, Flora, Pip and Emma, Jinty and Pug, Green Arrow, Iron Duke, Wilbert the Forest Engine, City of Truro
Enemies: Devious Diesel, 'Arry and Bert, Daisy, Diesel 10, Splatter and Dodge, Stanley (formerly), Spencer the Silver Engine (sometimes), Elizabeth (sometimes), Cranky (sometimes), Bulgy, George, Max and Monty, Den, Dart, Norman, Paxton (only in Day of the Diesels), Sidney, D261, The Horrid Lorries, S.C.Ruffey, Troublesome Trucks
Voice Actors
Edit
Ad blocker interference detected!
Wikia is a free-to-use site that makes money from advertising. We have a modified experience for viewers using ad blockers

Wikia is not accessible if you've made further modifications. Remove the custom ad blocker rule(s) and the page will load as expected.