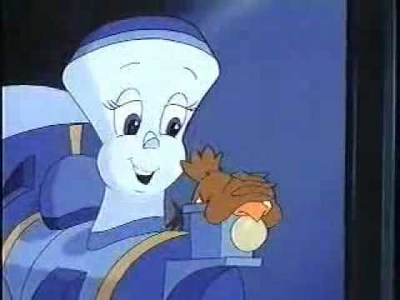 Tillie is a beautiful little blue engine who takes the birthday train over the mountain in the 1991 cartoon film, The Little Engine That Could.
One morning, Tillie is fast sleeping until she wakes up when she heard Tower saying to work before she blows her whistle to woke her cute boyfriend Chip up because it is the morning time. When she helps Farnsworth and Pete out for work in the morning, she attempts to take the milk train for a sleeping Jebidiah, but fails when Tower tells her that she is too little. When Georgia pulls the birthday train, she suddenly breaks down, she tells Doc to rescue her and take her back to the roundhouse. Tillie tries to tell Tower that she can pull the birthday train, but is so sad that Tower says that she can't pull the birthday train. When Tower is asleep, Jebidiah tells Tillie that he can't do it, and Tillie is so worried that there's no-one to take the birthday train, but is told by Chip that she's the only engine left. Tillie sets off to collect the birthday train, and takes the toys over the mountain, but gets set by two wolfs, who tell her she can't do it. She bravely attempts to cross the bridge, but gets adviced by The Eagle to turn back, then tells the Eagle that she can do it, and ignores the Eagle's advice. Tillie manages to cross the bridge, but loses one of the wagons behind her, and meets a cave with a voice inside. Tillie attempts to go through the cave, but ends up getting knocked by an avalanche. When Eric hears about the birthday train, which is knocked by the avalanche, Tillie awakens and wakes up Chip, but finally manages to make it out of the snow. Tillie manages to reach the yard for Eric's birthday, and says that she's done it, because it's worth the choice. She also appears in Casey Jr. the Circus Train and Friends as the main female, and is the main female in Casey Jr. and Friends.
Ad blocker interference detected!
Wikia is a free-to-use site that makes money from advertising. We have a modified experience for viewers using ad blockers

Wikia is not accessible if you've made further modifications. Remove the custom ad blocker rule(s) and the page will load as expected.